West End Real Estate

We would highly recommend [Joe] to anyone looking to sell their home, purchase a new one or both! — Michael Taylor
Use the menus to the left to narrow your West End Real Estate search. Get:
Neighborhood "for sale" info and maps
MLS info for luxury condo buildings
Market trends and more!
Current West End Real Estate For Sale Map
Select your desired price range and then click "SEARCH NOW" to view MLS listings for condominiums, houses, luxury real estate, lofts, luxury condos, townhouses and properties in Boston's West End neighborhood.
Zoom map to get for sale property pin points. Click the map's "Results" tab to see details for all mapped listings. And click a pin point to get individual property listing information.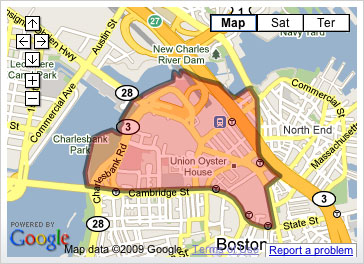 West End is an officially recognized neighborhood of Boston, Massachusetts. Massachusetts General Hospital and the Charles Street Jail (now the Liberty Hotel) are located in the northwest section, while Government Center comprises the southern section. Most of the northern section is covered by North Station and the TD Banknorth Garden.
West End Real Estate: The Neighborhood Defined
The West End of Boston is a neighborhood bounded generally by Cambridge Street to the south, the Charles River to the west and northwest, North Washington Street on the north and northeast, and New Sudbury Street on the east. Beacon Hill is to the south, and the North End is to the east.
Architecturally the neighborhood and West End real estate are dominated by super-blocks containing residential high rises that were built as part of a large scale urban renewal project beginning during the late 1950s. Otherwise a few non-residential areas were spared razing and re-development such as Massachusetts General Hospital, the Bulfinch Triangle and a small section surrounded by Causeway, Merrimac, and Market Streets.
How May I Assist You? / Ask A Question...
If this day finds you considering making a move into a future, or out of a present home, please contact me. It has been my good fortune to work with innumerable home buyers and sellers over the years and it will be my pleasure to work with you too. I look forward to working with you!