South End Real Estate

Joe is knowledgeable, friendly, and a pleasure to work with. ...He found us a condo that we could not be happier with. Joe was great! — Michael Hale
Use the menus to the left to narrow your South End Real Estate search. Get:
Neighborhood "for sale" info and maps
MLS info for luxury and loft buildings
Market trends and more!
Current South End Real Estate For Sale Map
Select your desired price range and then click "SEARCH NOW" to view MLS listings for condominiums, houses, luxury real estate, lofts, luxury condos, townhouses and properties in Boston's South End neighborhood.
Zoom map to get for sale property pin points. Click the map's "Results" tab to see details for all mapped listings. And click a pin point to get individual property listing information.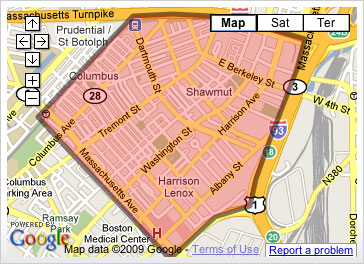 South End is an officially recognized neighborhood of Boston, Massachusetts. It is an upscale residential, retail, and commercial district. South End and neighboring Back Bay are considered among Boston's most expensive Boston real estate neighborhoods, with townhouses regularly selling for millions of dollars. Popular upmarket shopping destinations include Tremont and Washington Streets as well as the arts district sometimes known as NoHa.
South End Real Estate: The Neighborhood Defined
The boundaries of the South End are the Southwest Corridor Park, the Mass Turnpike, Herald, Albany and Northampton Streets.
Architecturally the neighborhood and South End real estate are dominated by mid-nineteenth century bowfronts — aesthetically uniform rows of five-story, predominantly red-brick structures, of mixed residential and commercial uses. The most common styles are Renaissance Revival, Italianate and French Second Empire, though there are Greek Revival, Egyptian Revival, Gothic Revival, and Queen Anne style houses, among several other styles. Despite the style, a common palette of red brick, slate, limestone or granite trim, and cast iron railings provide great visual unity. Today, the South End is listed on the National Register of Historic Places and is a Boston Landmark District. It is North America's largest extant Victorian residential district.
How May I Assist You? / Ask A Question...
If this day finds you considering making a move into a future, or out of a present home, please contact me. It has been my good fortune to work with innumerable home buyers and sellers over the years and it will be my pleasure to work with you too. I look forward to working with you!