Boston Realtor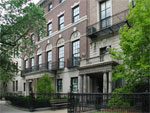 If this day finds you making decisions regarding your current or future Boston residence, allow me to help you. I understand truly extraordinary properties are different at every level and that they require real estate services that are as well. My team and I take great pleasure in using our considerable Boston real estate market experience, resources and global affiliations to perfectly unite sellers of Boston real estate with buyers who will cherish these wonderfully unique places.
Whether you seek to buy, sell, are a first-time home buyer, new to Boston's real estate market, or you are looking for a Boston Realtor with concierge style buyer/seller representation, I can help. As a Boston Realtor I possesses an intimate knowledge of the Boston real estate market and my clients' needs—It's the artful melding of the two that is my great skill.
How May I Assist You? / Ask A Question...
If this day finds you considering making a move into a future, or out of a present home, please contact me. It has been my good fortune to work with innumerable home buyers and sellers over the years and it will be my pleasure to work with you too. I look forward to working with you!