Boston Real Estate

If this day finds you considering making a move into a future, or out of a present home, please contact me.
Use the menus to the left to narrow your Boston Real Estate search. Get:
Neighborhood "for sale" info and maps
MLS info for luxury and loft condo buildings
Market trends and more!
Continue reading below the map to review a few general characteristics of Boston real estate which may be helpful for you to keep in mind.
Current Boston Real Estate For Sale Map
Select your desired price range and then click "SEARCH NOW" to view MLS listings for condominiums, houses, luxury real estate, lofts, luxury condos, townhouses and properties in Boston, MA.
Zoom map to get for sale property pin points. Click the map's "Results" tab to see details for all mapped listings. And click a pin point to get individual property listing information.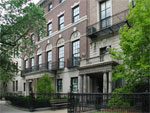 Boston real estate is a distinctly unique marketplace of residential properties. I realize all markets are unique, but the nature of Boston's real estate market is tied directly to its geography, long history as a city and its desirability among home buyers.
For the purposes of this web site I will limit my general market characterizations of Boston to the core neighborhoods that I primarily serve, i.e. Back Bay, Beacon Hill and the South End in addition to the following core districts: Mid-town, the Financial District, Downtown, the Leather District, the Waterfront and the West End.
Wow, that sounds like a lot of territory to cover doesn't it? And you're probably wondering how I manage to stay on top of the real estate market in all these areas? Well, these last two thoughts lead me to my first characterization of the Boston real estate market: neighborhoods and districts are densely built, very compact and easily traversed on foot in a matter of minutes.
Depending on where you've lived before you may be familiar with some more traits of Boston real estate, and real estate in Massachusetts in general. However if you are new the area, listed below are some more characteristics to keep in mind as you explore your home buying options in and around Boston's real estate market.
Boston is primarily a condominium market. It's not that people don't desire single-family homes here, rather it has to do with the expense of buying them in core Boston real estate markets that limit their popularity.
In general Boston's housing stock is historic. In Boston you will find authentic districts and neighborhoods nearly homogeneously populated by period Colonial, Federal and Victorian style townhouses, brownstones and row houses. Historic as these dwellings are and despite being aged on the exterior, you will find oftentimes what lies beyond the front door is as modern as can be.
Boston's neighborhoods and districts are comparatively very old to the rest of the nation. Depending on your lifestyle requirements you will live differently in Boston. Often times residents find that they can live day-to-day without the expense and bother of owning a car and patronize neighborhood shops for all their day-to-day needs. Boston is a walking city. Streets in some districts can be quite narrow. The scale of things is human and often times speaks of another age.
Much of Boston's core is geographically flat and built on reclaimed wetlands. Depending on where you are looking to buy, you may become more familiar than you ever imagined with details related to the area's water table and your desired building's pilings.
How May I Assist You?
If this day finds you considering making a move into a future, or out of a present home, please contact me. It has been my good fortune to work with innumerable home buyers and sellers over the years and it will be my pleasure to work with you too. I look forward to working with you!